This week our featured place, and Irving K. Barber Learning Centre room name, is Hazelton.  Hazelton, as well as New Hazelton and South Hazelton, is located near where the Skeena River meets the Bulkley River, northeast of Prince Rupert.  The Hazelton area is the traditional land of the Gitxsan and Wet'suwet'en First Nations.
The featured document is from the Social Planning and Research Council (SPARC) of British Columbia fonds. SPARC is a non-partisan organization that was founded in 1966 to "work with communities in building a just and healthy society for all" (from the SPARC website). The archives here at RBSC include files from 1966 to 1984 and contain a wealth of information on the history of social issues and programs in B.C., from youth, housing, health, aging, and much more. One such file is on the Hazelton Children's Home.  Founded by the United Church in 1967, the Hazelton Children's Home appears to have run at least into the 1980′s.  It is described in the file as "an extended care facility for mentally and physically handicapped children." The files contain a request for funding written to the Skeena Health Unit in 1978.  Information about the home is now scarce- the SPARC files as well as files at the Bob Stewart United Church Archives appear to be two of few sources.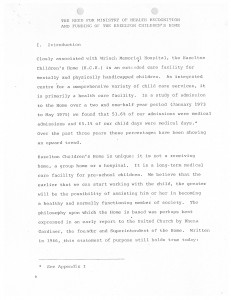 Document from SPARC fonds
Cross-posted at UBC Library's Rare Books and Special Collections.