---
This exhibit takes place at IKBLC from April 1 to 28, 2017, as a collaboration between the Irving K. Barber Learning Centre's Community Engagement & Programs Division and the Roedde House Museum.  A re-mounting of an earlier three-part exhibit on three families called Victorian Vancouver: Family Portraits, this exhibit illustrates how migrant families in early 20th century Vancouver fostered their own sites of commerce, community, and culture.   The exhibit tells the stories of the Roedde's and their printing business and the Lam family of Ho Sun Hing printers, the city's first Chinese-English print shop.  This exhibit is a side-by-side story of these two early migrant family printers in Vancouver.  Ho Sun Hing Printers was Vancouver's first Chinese-English print shop, founded by Lam family patriarch, Lam Lat Tong.
The shop was one of the oldest operating print businesses, with its final location in Vancouver's historical Chinatown, closing recently in 2013 after being in business for more than a hundred years.  Although the Roedde House Museum does not house any of the Ho Sun Hing materials that were on display in 2014, this exhibit's items are lent to the Museum by third-generation printer, Norman Lam.  Norman also graciously took the time to share his family's story of migration to Canada, working in the print shop, and growing up in Chinatown.
The Roedde House Museum is a fully-restored and refurnished Victorian home in the West End.  Now a local hub for concerts, lectures, readings, and all sorts of community art, historical, and cultural events, the Roedde House is a "living museum" inviting guests to interact with the home and its artefacts to imagine what life was life for an upper-class migrant family at the turn of the 20th century.
Who were the Roedde's?
Gustav Roedde was one of the city's first bookbinders and urban settlers. He was born in 1860 in Thuringen, Germany. He trained as a printer and bookbinder in Leipzig, Germany's famed "City of Books". In 1882 he emigrated to Ohio USA. There he met and married Matilda Cassebohm. In 1886 the couple moved to Canada and started a family and bookbinding and printing business. The house on 1415 Barclay Street was built for them in the year 1893. The Roedde home remains an important part of Vancouver History as one of the few Heritage Houses remaining and restored from a pivotal time in the beginnings in modern Vancouver.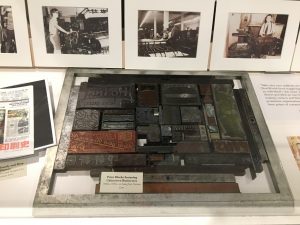 With the growth of fast digital technology and communication today, we often take print for granted. But back in Gustav's time, books and print were a major mode of communication. Vancouver as a settler city and colony, was able to develop businesses, industry, journalism, travel and of course, a government. It is arguable that print and book production by pioneers like Gustav, were solely responsible for the type of communication needed to grow these very sectors of the city we live in today. A new city was for migrants like Gustav, new opportunity. There was a common saying at the time to "Take it to the Roedde's" whenever locals had printing or bookbinding needs.
---
This exhibit takes place April 1 to 28th, at the Irving K. Barber Learning Centre (2nd level)
---
For questions, please contact the Community Engagement Librarian (Allan Cho) or Program Services Assistant (Kristen Wong)