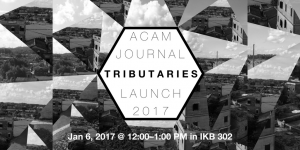 December 2, 2016
The Asian Canadian Asian Migration Studies program invites you to join us at it's first academic ACAM journal launch. The ACAM undergraduate journal is a new student-run publication that reaches across various disciplines, genres, and forms, to consider topics around Asian and Asian Canadian identity. The journal seeks to recognize and encourage dialogue around these topics, and to grow as these dialogues continue. Submissions from all UBC students, disciplines and cultural contexts at are welcome. The inaugural issue, "Tributaries", features collected poetry, short stories, visual art, and essays. This event will be taking place on the traditional, unceded, ancestral homelands of the xʷməθkʷəy̓əm (Musqueam) First Nation.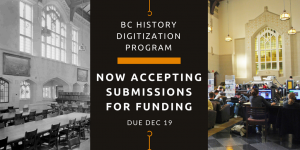 November 29, 2016
The British Columbia History Digitization Program (BCHDP) promotes increased access to British Columbia's historical resources by providing matching funds to undertake digitization projects that will result in free online access to unique historical material from around the province. The BCHDP demonstrates the Learning Centre's dedication to sharing knowledge and supporting education by making local information […]
November 1, 2016
Canadian composer Howard Bashaw's sound-art performance installation The Resonance Prism was premiered in 2014 in a concert event entitled Sound Space Architecture in the University of British Columbia's Centre for Interactive Research on Sustainability. Performers were required to both realize the specific material presented in the score and generate imaginative, inspired improvisations. The chosen venue […]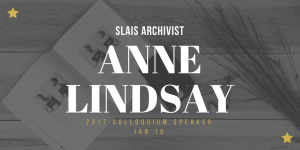 November 1, 2016
The School of Library, Archival and Information Studies is pleased to welcome Anne Lindsay, Access and Research Archivist for the NCTR, as a speaker in the iSchool's Winter 2017 Colloquium program. She is speaking Wednesday, January 18, from 12:00 p.m. to 1:00 p.m. on the topic of "Beyond Jenkinson: Authority, provenance, and Arrangement in a Complex […]
November 1, 2016
TomoeArts will be screening a series of full live video performances from their Shôchiku's Kabuki Meisakusen Series at the I. K Barber Learning Centre. The performances feature several talented onnagata (female role) actors such as Nakamura Jakuemon IV (1920-2012) and Bandô Tamasaburô. All screenings will be held at the I. K Barber Learning Centre in […]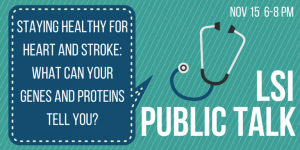 November 1, 2016
A Life Sciences Institute Public Talk Join us for a free discussion with a panel of experts who will explain what personalized medicine can tell you about your potential for heart health issues, and how doctors and researchers in British Columbia are collaborating to identify your risks, detect early warning signs and deliver individualized treatments. […]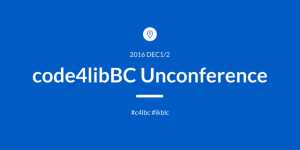 October 21, 2016
Event Details What: It's a 2 day unconference! A participant-driven meeting featuring lightning talks in the mornings, breakout sessions in the afternoons, with coffee, tea and snacks provided. Lightning talks are brief presentations which are typically 5-10 minutes in length on topics related to library technologies. Breakout sessions are an opportunity to bring participants together […]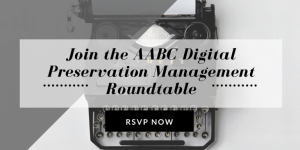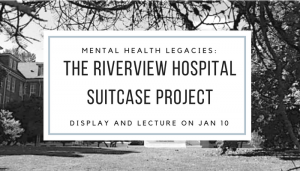 September 9, 2016
The UBC School of Nursing Consortium for Nursing History Inquiry presents the Health History Lecture and display on Mental Health Legacies: The Riverview Hospital Suitcase Project. The project is created to honor the legacies of two women whose lives were impacted by mental illness. It tells of their individual journeys and of the effects of […]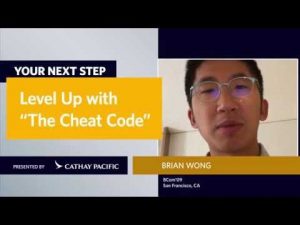 August 8, 2016
Sept. 7, 2016 | 6:30-9:00pm| Jack Poole Hall, Robert H. Lee Alumni Centre | Registration required| Have you ever noticed that some people seem to get ahead just a bit faster than everyone else? Join Brian Wong, co-founder and CEO of Kiip and the author of The Cheat Code, as he walks us through some of the shortcuts we can use to get a leg up on the competition, garner attention for ourselves and our ideas, and accelerate our success.