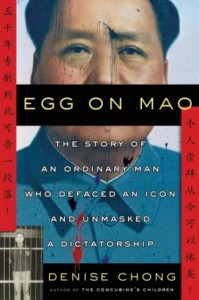 February 16, 2010
In her first book in a decade, Denise Chong tells the story of the man who defaced Chairman Mao's portrait during the protests in Tiananmen Square in 1989, twenty years ago.
February 15, 2010
The venerable Chung Collection, located in Rare Books and Special Collections in the Irving K. Barber Learning Centre, is featured in the February 15 issue of the Vancouver Sun. The article also features some comments from UBC Library's Sarah Romkey. You can read the article here.
February 15, 2010
Presented by the School of Library, Archival, and Information Studies (SLAIS) Colloquia Series, David Hendry and Jill P. Woelfe examine how information – particularly, its organization and presentation – and space (i.e., a physical location) can be combined to create a particular place (i.e., a location adapted to a particular purpose) for engaging and stabilizing homeless young people, aged 13-25.
February 14, 2010
The IKBLC Gallery presents: "Snow, Ice and Gold" an exhibit curated by the Westcoast Calligraphy Society.
February 13, 2010
Dr. John Hoberman is a European cultural and intellectual historian and has done extensive research on sports doping and the intersection of sports, politics, science, public opinion and the Olympics.
February 12, 2010
On January 21, 2010, the UBC Africa Awareness Initiative welcomed James Atebe to UBC. Mission's mayor, James Atebe, has been dubbed by some as the Obama of Canada.
February 9, 2010
The Learning Centre has been webcasting selected UBC lectures and seminars as an opportunity to enhance the value of the programs that are already happening on campus for an audience that oftentimes cannot personally attend. A webcast sponsored by the Irving K. Barber Learning Centre, Living Traditions: Windingo's and Indigenous Law is a presentation by Dr. John Borrows.
February 5, 2010
Irving K. Barber Learning Centre website is changing. We recently update the website to incorporated the new UBC Common Look and Feel (CLF), and a more dynamic user-friendly experience. During site migration, if you find any missing content or if you have any feedback, please contact us. Thank you.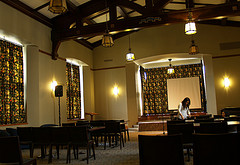 February 3, 2010
Dodson Music Series on Friday Feb. 12th, 2010 has been  cancelled due to the performers' not being available at that time. We apologize for any inconvenience caused.
February 2, 2010
The Human Orrey Project–supported by UBC's Carl Wieman Science Education Initiative–involves 40 students placing sticky notes on the floor of the Irving K Barber Learning Centre