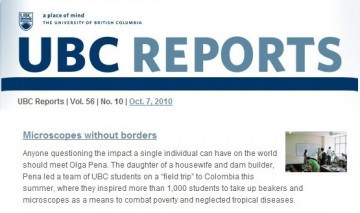 January 8, 2010
The January 2010 issue of UBC Reports – the Winter Games edition – features a story on the Olympic Legacy Exhibit, now on display at the Learning Centre Gallery. You can view the story here: http://www.publicaffairs.ubc.ca/2010/01/07/how-ubc-has-shaped-canadas-role-in-olympics/
January 7, 2010
The World At Night Astronomy Exhibit (January 4, 2010 to January 30, 2010) The World At Night (TWAN) is a program to create and exhibit a collection of stunning photographs and time-lapse videos of the world's most beautiful and historic sites against a nighttime backdrop of stars, planets and celestial events. TWAN is a bridge […]
January 7, 2010
Ian Ferguson is an award-winning playwright and humorist whose commentaries have been widely broadcast on radio and television. He is the creator of the live improvised soap operas Die-Nasty and Sin City and is currently writing a sitcom pilot for a major U.S. television network.
December 18, 2009
UBC's rich Olympic legacy is on display for those wanting a closer look at the athletes and academics who have helped shape Canada's role in the global sporting event.
December 18, 2009
December 18 – March 1, 2010
December 18, 2009
An update on the Irving K. Barber Learning Centre is featured on page 3 of Open Door, the newsletter of the B.C. Library Trustees' Association.
December 9, 2009
The Vancouver Courier features an article on the exhibit Drippytown: Vancouver Life Through the Eyes of Independent Cartoonists.
December 4, 2009
Patricia Logie, a B.C. artist who has donated her portrait collection Chronicles of Pride to UBC Library, is featured in the Coast Reporter, a Sunshine Coast newspaper.
December 4, 2009
Inspired by the excellent work of the Pecha Kucha Vancouver, the Irving K. Barber Learning Centre Olympic Programming Group is hosting our first Pecha Kucha inspired Event on Thursday, January 21st starting at 7 pm.
December 1, 2009
Visual Arts 300 students for art exhibition in Gallery at IKBLC, Morph (December 8-31st, 2009) Working within the theme of "transformation" on a personal and universal level, Morph is an exhibition of paintings that offer multiple aspects of individuals' creative focus, academic backgrounds, personal stories and global perspectives. In preceding projects, students have researched and […]